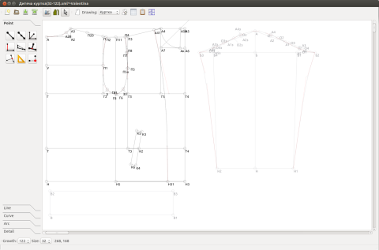 Valentina is an open source pattern drafting software tool, designed to be the foundation of a new stack of open source tools to remake the garment industry.
Small-batch and custom-sized clothing manufacturing is essential to create a sustainable future, preserve small- to medium-sized textile spinning and weaving manufacturers, enable independent and small designers and manufacturers to scale up to make a decent living, rebuild local garment districts, and reduce or eliminate slave labor.
---
Valentina releases (currently v0.6.1)
Test builds
Source Code
Beta Testing
We love beta testers. If you would like to beta test Valentina, you have two choices:
Test with latest test build. Download and run the lastest test build. Each package has a timestamp and will replace the last Valentina version (stable or unstable) available on your PC. Installing stable and unstable versions side-by-side is not supported yet.
Test with latest source code. Install Qt 5.2 or later and Mercurial. Clone Valentina's development branch. Build and run Valentina using QtCreator. Whenever you wish to test the latest changes, get Valentina's latest code using Mercurial then rebuild and run Valentina in QtCreator. ...A good discussion of installing and using Mercurial can be found here, and discussion on how to configure QtCreator here.
If you have questions on how to use Valentina, please join our forum, look for any related posts to find existing answers, and post your question.
If you encounter problems while installing or using Valentina, please file an issue on the Valentina Bitbucket issues list. Include your operating system version, 32- or 64-bit, and description of what you see when the errors or problems occurred. Attach the pattern file and measurement file in use when the error occurred. Screenshots are always helpful.
---
Community
Join our Google and Facebook groups to connect with the emerging community of people interested in pattern drafting for textiles, DIY, 3d-software, etc.